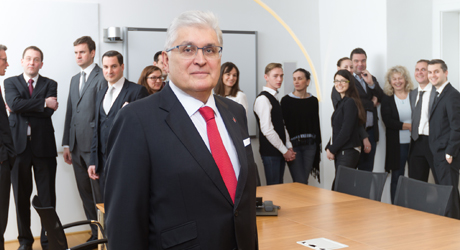 Michael Müller — Founder and CEO — with his Team
History
EYEMAXX International Holding & Consulting GmbH was founded and set up by Dr. Michael Müller in 1996. Starting from 2001, property was actively bought and developed and. In 2005 the first retail parks were realised in Slovakia.

Numerous other retail parks and logistics centers in the Czech Republic, Poland, Slovakia, Romania and Hungary followed between 2007 and 2010, just like the purchase of property in all the mentioned countries as well as Serbia.

In 2011, EYEMAXX International was fully brought into Deutsche Amictus AG, a company listed on the stock exchange, which subsequently changed its name to EYEMAXX Real Estate AG in the same year.

This was followed in 2012, by the first purchases of leased commercial real estate in Germany and Austria and by 2016 the portfolio was doubled. In 2013, the large-scale project "Fachmarktzentrum Kittsee" in Austria was completed as well as other retail centers in CEE.

2014 was characterised by some innovations. The asset classes "residential" (Germany, Austria) and "care homes" (Germany) became part of the corporate strategy. The first projects are being implemented and have already been sold prior to the start of construction.

In 2016 the neighbourhood development "Postquadrat Mannheim" - the largest project of the company - was lounched.

It was followed in 2017 by a neighbourhood development in Schönefeld in Berlin and other projects in Austria and Germany. Furthermore, the focus has been laid on fast-growing markets such as serviced-, micro- and student housings.

2018 EYEMAXX intensifies his involvement in the hotel sector and starts first projects in Germany.

By now the project pipeline includes around EUR 975 million and continues to be expanded.